South Africa This trip was truly outstanding! Johannesburg is a formidable city of great magnitude, beyond what I had expected. We roamed through the city, marveling at all there was to see from the people to the shops and the energy of the city. Normally, I prefer not to travel via arranged tours, but there was so much to see that we took that route for this trip. It was a private tour, so it was just the four of us (my husband and I and our son and daughter) and a driver. All details were arranged beforehand, which made the trip easier to manage.
We had the sad but deeply enlightening experience of visiting the island where Mandela was imprisoned and saw his prison cell which was heart wrenching.
http://naturaliscoolenough.blogspot.com/2013/12/nice-pauses-to-pay-homage-to-nelson.html
We also went to Soweto to visit the home where he once lived (now a museum of sorts) which was in stark contrast to the home that we saw that he lived in while President. We also visited the Soweto museum. Our visit to Capetown was very interesting, as well as our enjoyment of a day and night safari at Kruger National Park. The night safari was a little scary as we ran into a herd of elephants of which one of the males came charging toward us. Luckily, all ended well but I don't think I would participate in a night safari again. For a portion of our trip, we also stayed at the Palace of the Lost City which has a large tidal wave pool! This hotel is tremendous in size and scope. Additionally, the food in South Africa, overall, is fantastic. Be sure to visit Wandie's Place in Soweto which was our favorite food spot
http://www.wandies.co.za/
. The seasonings used in food preparation there are great and all was delicious. So if you visit, be sure to eat heartily!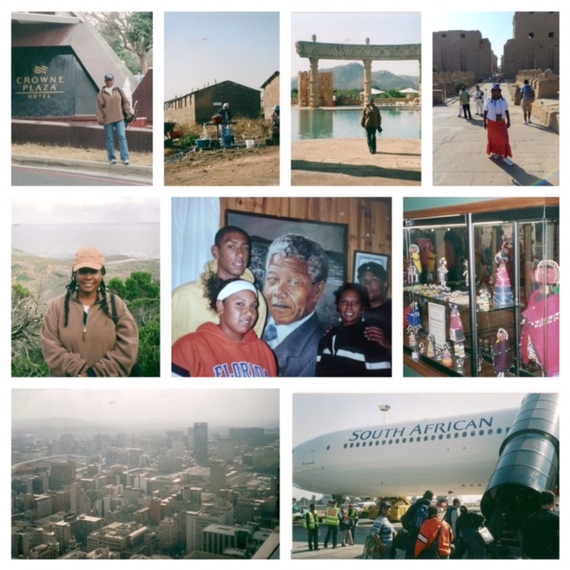 Egypt
Egypt, by far, has been one of the most wonderful experiences that I have had in my life. Seeing the pyramids caused a visceral reaction for me. They were so huge, mysterious and interesting that I felt emotional as I stood before them. The Sphinx was also a site to behold. We (my husband, son and I) cruised down the Nile for a week, on a lovely cruise ship, stopping to see numerous great, temples throughout the voyage. We also made our way to Abu Simbel to see the Temple of Ramses the Great, which was mind blowing. Our hotel in Cairo, which was a Marriott was absolutely perfect including the ambience, the pool, the food, the rooms and everything about it.
http://www.marriott.com/hotels/travel/caieg-cairo-marriott-hotel-and-omar-khayyam-casino/
I highly recommend this hotel as a selection.
The temples and tomb visits were intriguing because by looking at the drawings on the walls, made by the Egyptians during antiquity, my knowledge that the Ancient Egyptian Pharaohs and their Queens, children and the people of the land then, were, in fact, Black people, was solidified. This is also confirmed by timelines, which reflect when other groups, such as Europeans and Arabs arrived in Egypt. After all, Egypt IS in Africa! This is easily proven with any map or globe! Lastly, the Cairo Museum is also an experience worth every moment. Give yourself time as it is huge and be sure to pay a bit extra to visit the mummy room. There you will see mummies of Pharaohs and others and understand the incredible skill set involved with mummification. I wrote about this some time ago so check it out here:
http://naturaliscoolenough.blogspot.com/2010/08/african-hair-in-antiquity-hair-of.html
. Egypt is a trip that is definitely a must do!
This Blogger's Books and Other Items from...