When my children were little, I used to read to them incessantly. I wanted them to experience the joy of reading as I do. But unfortunately, I noticed that none of the books had images that looked like them, and I was particularly concerned that none of the princesses, etc. had hair like my daughters...natural and beautiful. So I traveled to Harlem, and went to a bookstore and I found what I considered gold...Fairy Tales that had been adapted artistically to make sure that children of African descent would be able to identify with the characters in terms of hair, images, names, etc. My intent here is to focus solely on the images because all of them have beautiful natural hair such as Afrotina and the Three Bears and Rapunzel, as examples.
Additionally, in preparing for this post, I decided to do a bit of research about the Illustrator and to my surprise, I found the link that follows, containing the information below about him. His name is Fred Crump Jr. and he was an Art Teacher for 32 years before retiring. One of his former students wrote a very heartfelt piece about him which is available at this link:
http://www.djcoffman.com/2010/08/09/mr-crump/
Here are excerpts from this excellent information:
About the Illustrator
"He was also working as a Children's book illustrator at the time of teaching. He would use his sample pages to teach us what went into good illustration and all of the details. He specialized in making fairy tale books for African American children, retelling African folklore and also retelling classic fairy tales with African American children in the roles of the main characters because he believed it was silly for all the old fairy tales and princesses to only be white children. He thought it sent the wrong message to minority children to see that only white people had a prince charming or happy ending. I recall his statesments on that stuff really striking me, as I had never really thought about race before...let alone all the characters being white! He really encouraged us to make sure we learned to draw people who "were not like us."
(Although I searched the web for pictures of Fred Crump, Jr., the only image I was able to find is this illustration drawn by his former student who wrote about him, per the link above).
"You must learn to draw every man before you can really draw any man."
-Fred Crump, Jr.
I was absolutely touched when I read this piece because Fred Crump, Jr. truly made a difference in my life, as a young mother, and the lives of my children. I remember being so excited about those books and bringing them home to my children and reading those stories to them with so much pride. My children are adults now, but I bring those books to class with me each semester and share them with my college students in my Africana Studies course, to help them understand the importance of children seeing images in literature, which they can identify with, particularly in terms of positive stories with happy endings.
So, N.I.C.E. recognizes and praises Fred Crump, Jr. for knowing and understanding that within the context of his beautiful illustrations and the re-telling of classic fairy tales, Natural Is Cool Enough! Below you will find Mr. Crump's autobiography and many of the covers of his beautiful books, illustrated with African American/Black children in mind.
Autobiography of Fred Crump, Jr.
Fred Crump, Jr. was born in Houston, Texas on Junes 7 1931. He received a Master's Degree in Art from Sam Houston College in 1961. He moved to Palm Springs, California and taught art at a junior high school for 32 years. After retiring from his teaching career, he began a career as an author and illustator of Children's books. In addition to teaching, writing and illustrating, Mr. Crump also wrote for magazines such as "Humpty Dumpty, Playmate and Turtle." Mr. Crump brought the fairy tales of childhood to African-American children in a way with which they can personally identify. Mr. Crump died, October 29, 2005, at the age of 72. Crump, whose final book, Three Kings and a Star, was released a month before his death. He devoted the final chapter in his life to retelling popular children's stories for African-American audiences. Mr. Crump had more than 40 titles.
Source:
http://www.djcoffman.com/2010/08/09/mr-crump/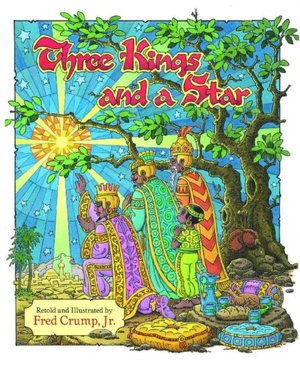 Here is a link where the books are available:
http://africanamericanblackgifts.com/catalog/index.php?main_page=index&cPath=12_67