Brazil is a lovely South American country that I had always
wanted to visit.
Traveling there with my family was as delightful
as I thought it would be, spending our time in Rio, enjoying
the beaches of Copacabana, Ipanema and taking in all of the sights.
Brazil is a place where you find beauty in the people, the scenery,
and the attractions. We loved our hotel, which was oceanfront
with a lovely rooftop pool. It was a family experience as our children,
who are young adults, traveled with us.
I also had the opportunity
to invite two of my students at the time, to spend time with us while
we were there.
One of them is from Brazil and had taken a university
course with me in the U.S. as a Fulbright scholar and was in Brazil
during our visit.
The other was also in Brazil having a one semester,
study abroad experience and was learning to speak Portuguese.
It was wonderful to catch up with these two naturalistas and have
my family meet them.
They were excellent cultural tour guides
during the brief time we spent with them.Below are details of some of
our experiences in Brazil as it was definitely one of my favorite
places in the world to visit.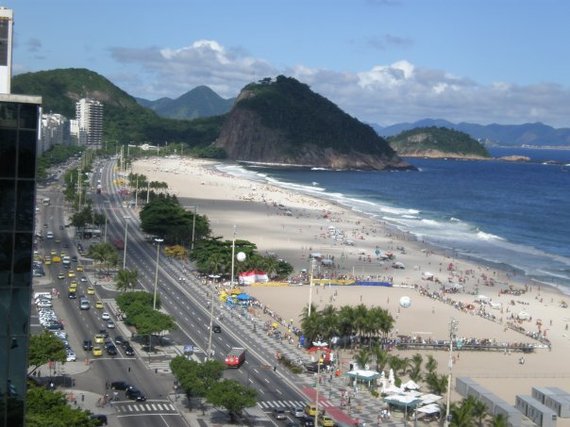 The Rio Experience
I absolutely love Rio!
The experience there is one of vibrancy,
rhythm, color, culture and excitement. Besides enjoying the
Copacabana and Ipanema Beach areas, we enjoyed many
sites including the center of the city. We rode through the
Tijuca Forest to the Corcovado Mountain, visited the
Christ Redeemer and took a cable ride to Sugar Loaf and enjoyed a
fantastic view of the city and all of its outstanding architecture. We
were also thoroughly entertained at a Plataforma Samba Show, which
included amazing costumes that comprise some of the visual
highlights of Brazilian culture along with Samba (a Brazilian dance),
frevo (Brazilian folk music) and capoeira (which is a form of martial
art performed in Brazil that includes dance, acrobatics and music).
Excellent—all of it!! The latter is thought to have emerged in Brazil
through West African descendants during slavery.
There is a great
deal of skill involved in the art of capoeira so it was really a treat to
see it so beautifully performed.